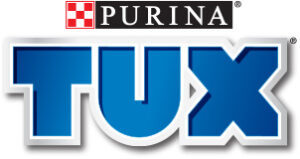 Award: Winner
Category: Dog Foods
PART OF KIWI HISTORY SINCE 1954, TUX® dog food is loved by dogs for its flavour and texture, and by dog owners for its convenience, balanced nutrition and trusted ingredients.
An iconic New Zealand brand for over 476 dog years, TUX® (derived from 'dog tucker') is made right here in Marton, New Zealand.
TUX®, a proud Purina brand, began life fuelling rural working dogs. Now there's a TUX® product for dogs of all lifestyles and life stages, with each TUX® product designed to provide complete and balanced nutrition.
In 2022 TUX® launched an exciting new treat for adult Kiwi dogs to enjoy, TUX® Tasty Bones. Available in two sizes – original and mini – TUX® Tasty Bones are perfect for training or simply as a reward for good dogs who deserve good tucker and are available in the pet treat section of the supermarket.
"At Purina, pets are our passion, and it is this passion that drives the culture of Purina today," says Purina NZ Head of Marketing, Mark White. "The long-term success of TUX® is derived from the continued focus on providing Kiwi dogs the complete and balanced nutrition that they need to live a full life."
"With 60 years' experience, TUX® understands the unique requirements of Kiwi dogs."

FEMALE, 50-59, AUCKLAND
"Leading the way for healthy dogs."

FEMALE, 30-39, NORTHLAND
"My dog loves it!"

MALE, 60+, HAWKES BAY